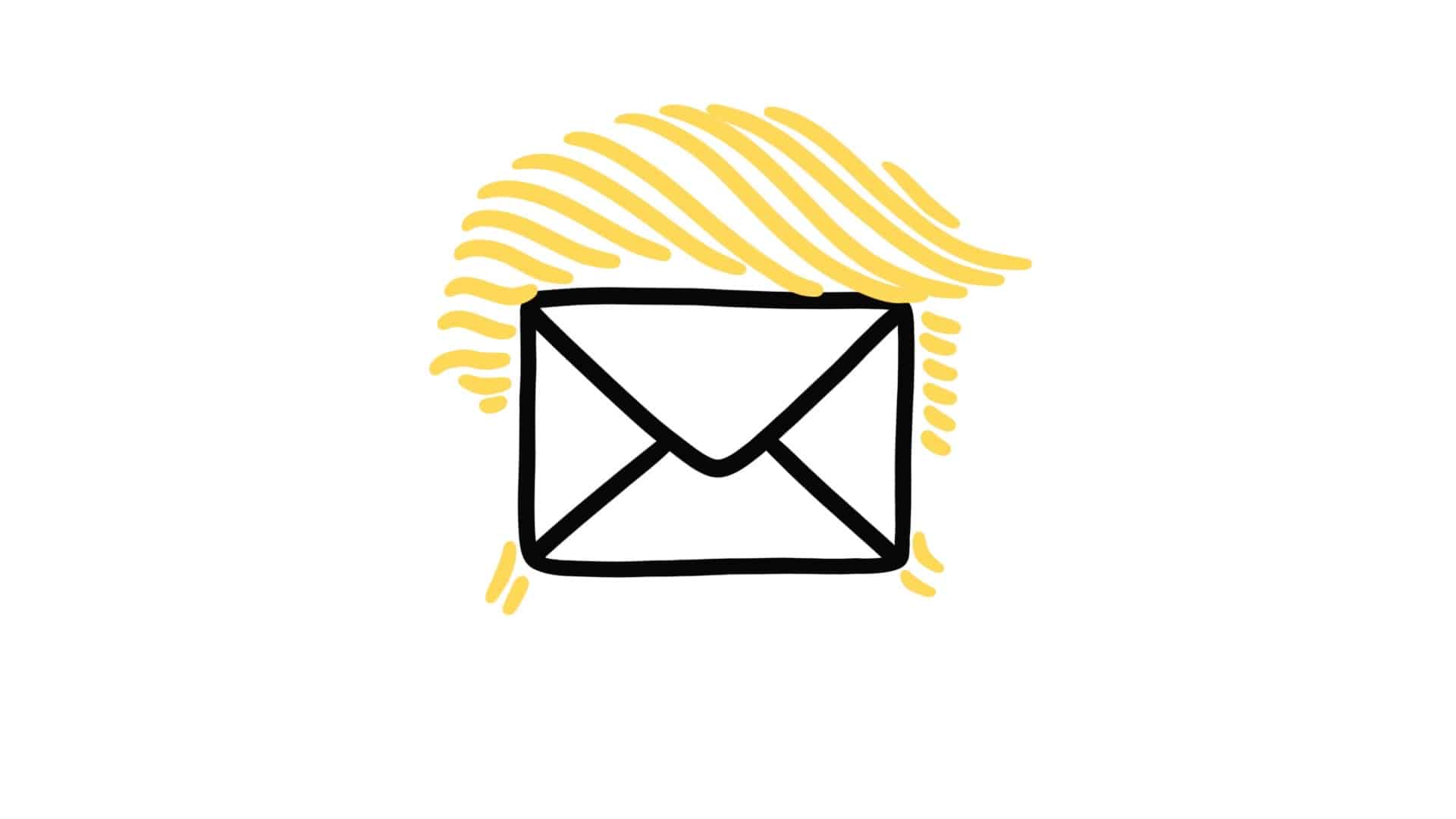 Did you know that there are currently 4.1 billion email accounts worldwide? That's a staggering number. What's even more staggering is that the number is growing with no end in sight. Email rules the Internet. 92% of people using the Internet are sending and receiving emails on a regular basis.
With numbers like that, you had better believe companies have their email game on point (or on fleek if you are a millennial reading this). I wish I could say that was true. The fact is that 78% of email is marked as SPAM. There are 94 BILLION SPAM messages per day. In fact, it costs the global economy $20 billion each year to send and receive SPAM emails because companies like Google and Yahoo have to spend time developing software to block unwanted emails. Not to mention the time it takes for you to have to sift through all that SPAM just to get to the important emails in your inbox. It's literally costing us money by sending terrible emails.
Oh! You didn't? Well, now you do. Let us help you build and execute great email campaigns that will effectively communicate with customers, cross-sell and drive website traffic and sales for your company. Contact us today to find out how. Also, take a look at our digital marketing services for other great solutions for you.
An email has the highest ROI of any form of digital marketing. According to a study done by MarketingSherpa, 91% of U.S. adults claim that they like to receive promotional emails from companies that they have done business with. Furthermore, 86% of that 91% said that they would like promo emails at least once a month, and 61% admitted to wanting promo emails weekly. Of that 61%, 15% said they would like to receive them daily, 10% twice a week, 4% 3 times a week, and 32% for daily promo emails. So with percentages like that, you had better be placing more attention on developing great emails. You are missing out on revenue that is just sitting inside your email list.
By applying these following tips, you will begin creating well-crafted emails that grab your audience's attention and bring more revenue to your business. It's time to make email great again. Let's get started
---
1. Have a great subject line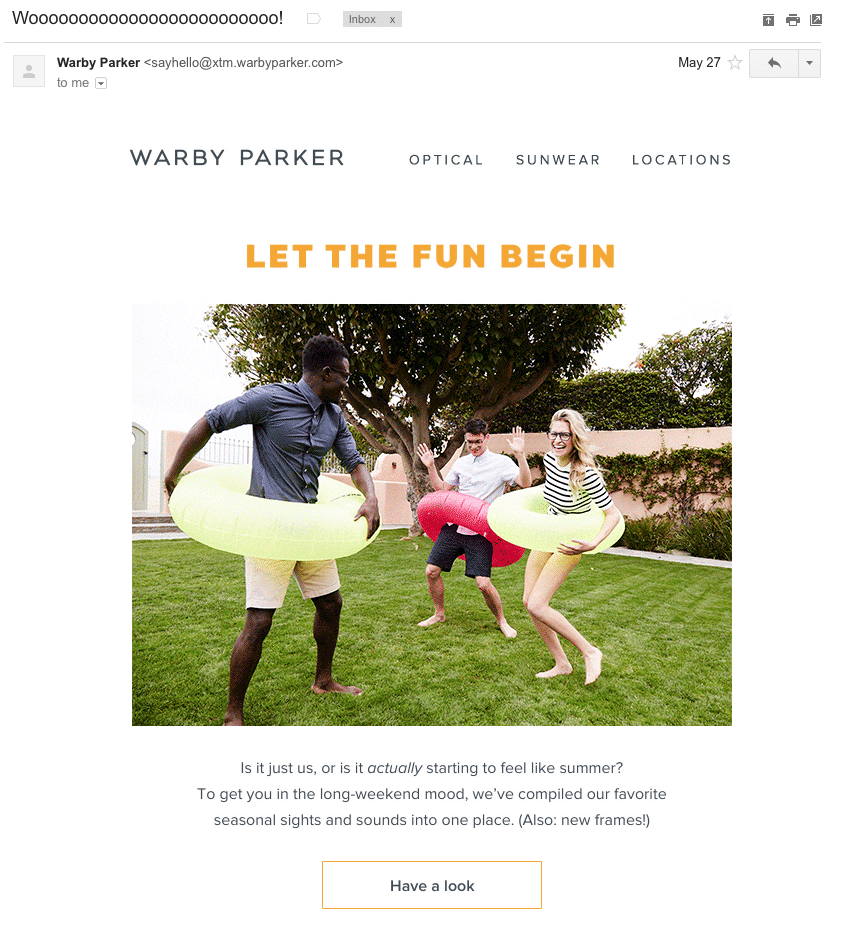 The goal here is simple. You want them to open the fabulous email that you spent so much time on. I tend to not choose a subject line that reveals what's inside the email. You don't want to give them a chance to write it off as something that isn't of importance to them before they even open it. The meat of your message is inside the email, not in the subject line. The subject line is merely an appetizer.
I recently received an email from Warby Parker where the subject line read,
"WOOOOOOOOOOOOOOOOOOOOOOO!"
Of course, this caught my attention. I opened it immediately. Now I didn't purchase anything from that email, but what it did do is motivate me to open the email. I was greeted with a great GIF of three people sporting their Warby Parkers sunglasses playing in a yard with pool floaties. It was simply an advertisement for their new sunglasses for the summer. I did click the link and perused the new collection. Ever since that email, when I see Warby Parker in my inbox, I open it. So the advertisement worked. The subject line worked. It didn't give Warby Parker a direct sale from that email, but they definitely have my attention. And it was all because of a great subject line.
2. Test, test, test EVERYTHING!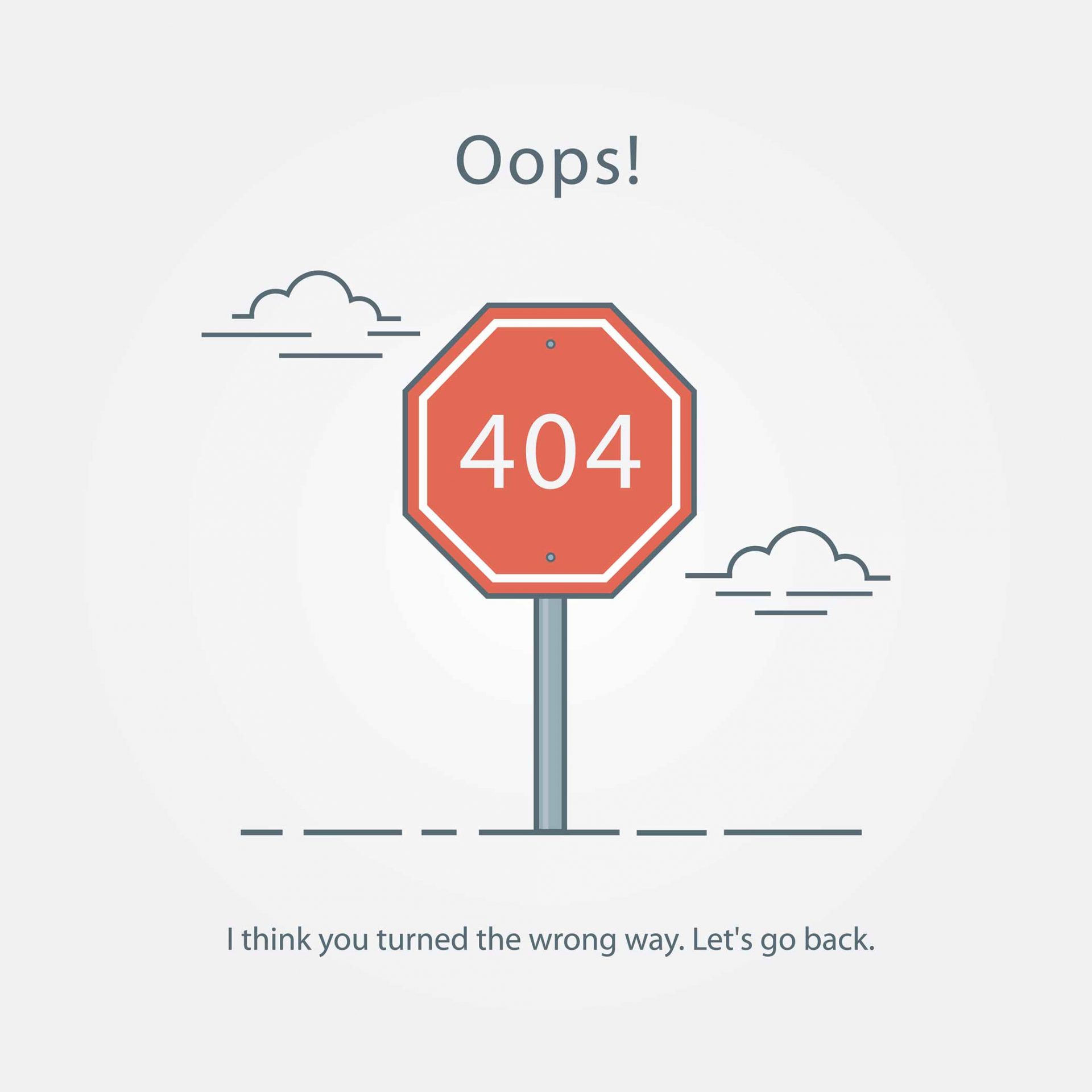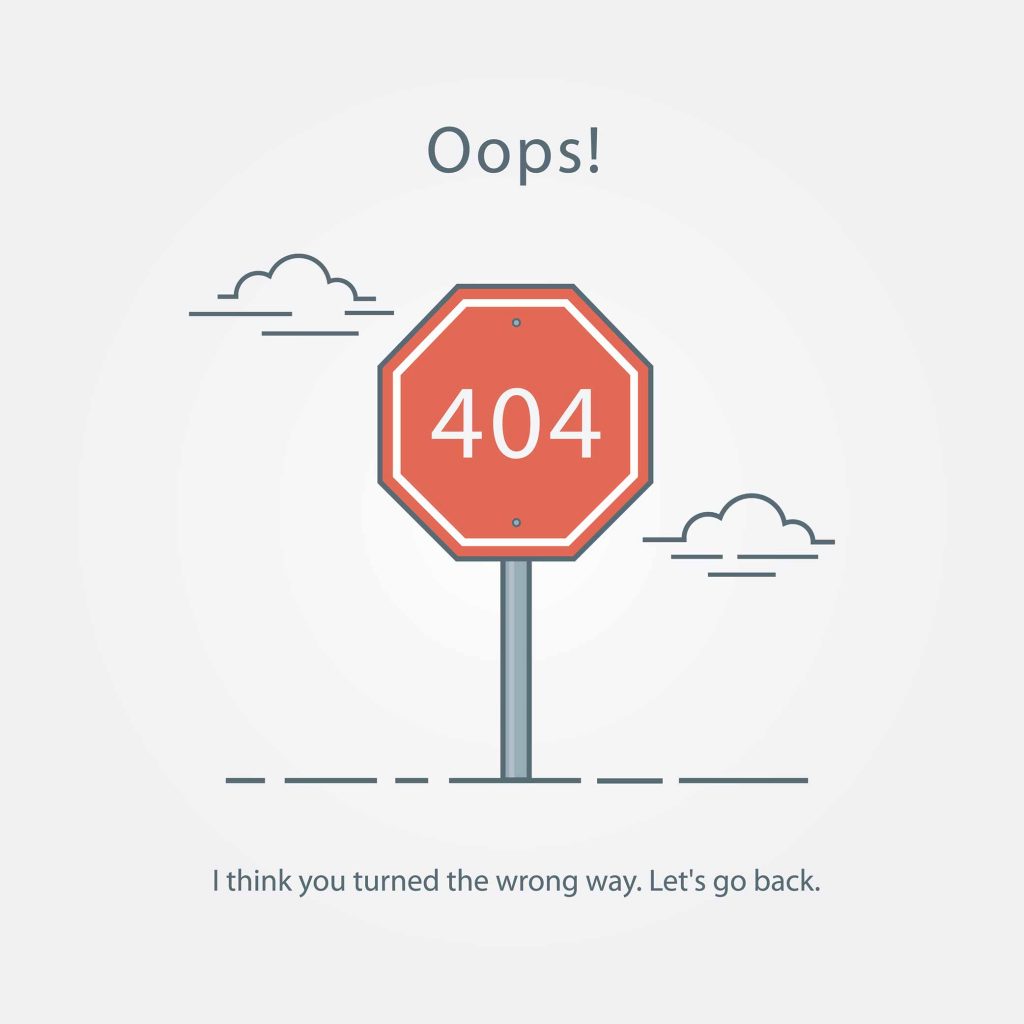 So you have put this amazing email together that is going to triple your sales overnight. You are looking at some of the other things you have to get done that day so you click Send. You get the notification that your email has gone through and none of your links work. Not only that, but the personalized greeting still says "Dear |*FNAME*|" That knot in your stomach just tightened down.
Mistakes happen, but they can be dramatically avoided if you just take a minute to test your email. Most email platforms give you the option to send a test to yourself before you send it out to the masses. This is a great opportunity for you to make sure that the images are loading properly, the email looks good on a mobile device, the links all work properly, and there aren't any grammatical errors. I would also suggest that you send the email to a few other people to run a test on the email as well. Chances are, if you put it together, you are so invested in it and have been staring at it for so long, that it will be easy for you to overlook some key mistakes.
3. Have a clear call to action.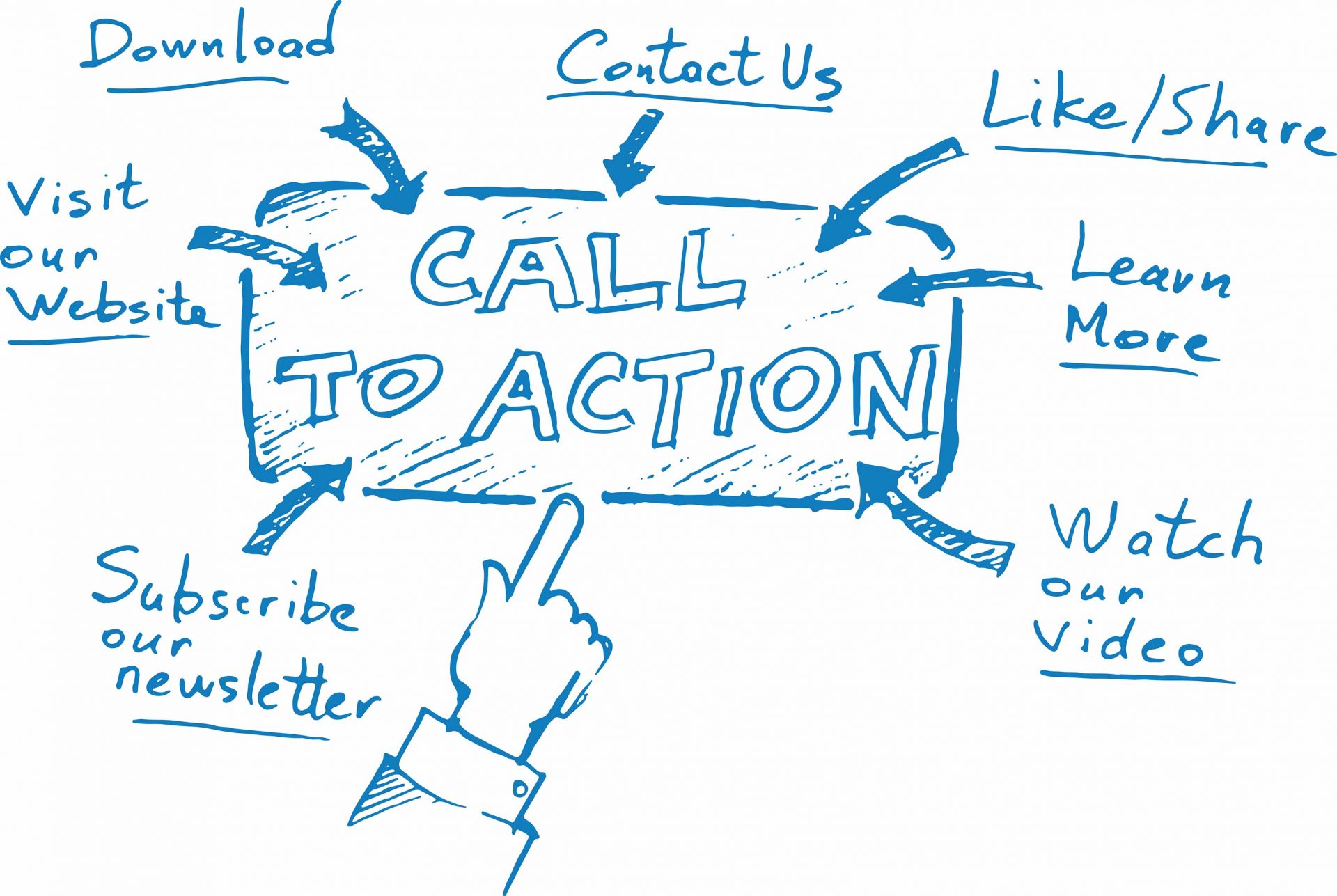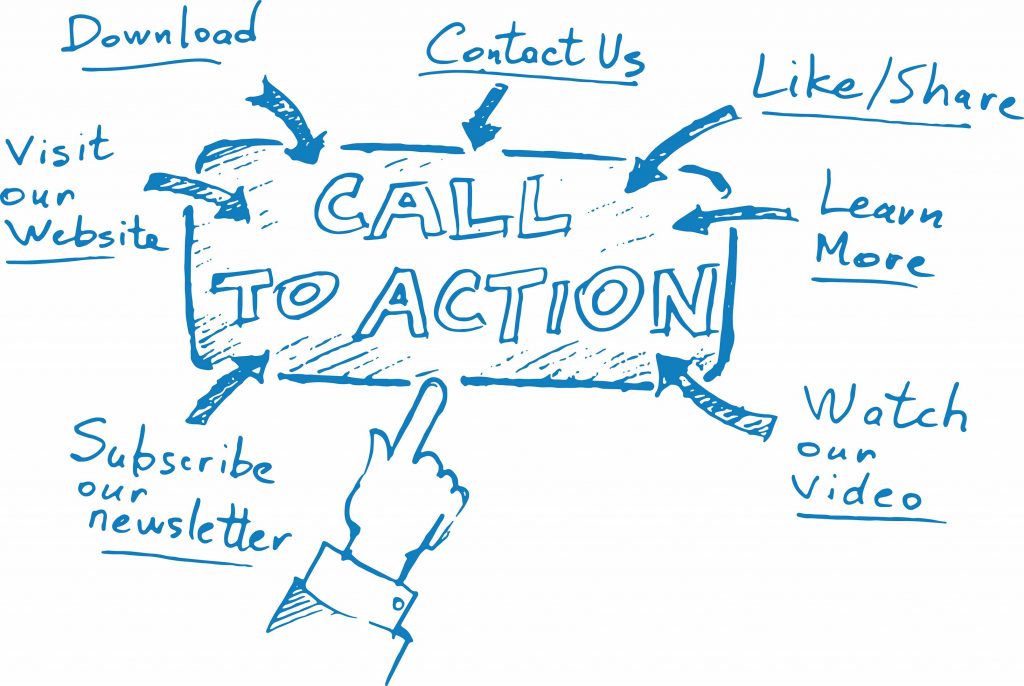 Before sending your email, think about what the action step is for the recipient. Have that in mind as you put together content, subject lines, and graphics. There is nothing more frustrating than receiving an email and not having a clear action step. It not only wastes your time but more importantly you are also wasting your client's time.
Once you have decided what that call to action is, you want to make sure the button or link is easily seen. Choose a button color (which there is a whole separate blog post waiting to happen around button colors alone) that is different from the email color scheme. You want it to stand out. Design your graphics and content around that call to action. Lead them down the email to that call to action as if they are in a funnel.
Lastly, make sure your call to action goes to a great landing page. This is as equally, if not more, important than the email itself. You have put all your time, effort, and thought into this email, so make it count. If they land on a page that is hard to navigate or has a convoluted call to action, your customer will bounce. So, spend plenty of time making sure your call to action in your email lines up with the landing page.
---
These are just 3 of many tips to make your emails great again.
These aren't groundbreaking tips, but they are easily overlooked and executed poorly. Email is a very effective form of marketing. By applying these simple tips, I hope you begin to see your email marketing campaigns thrive and your business profits rise.