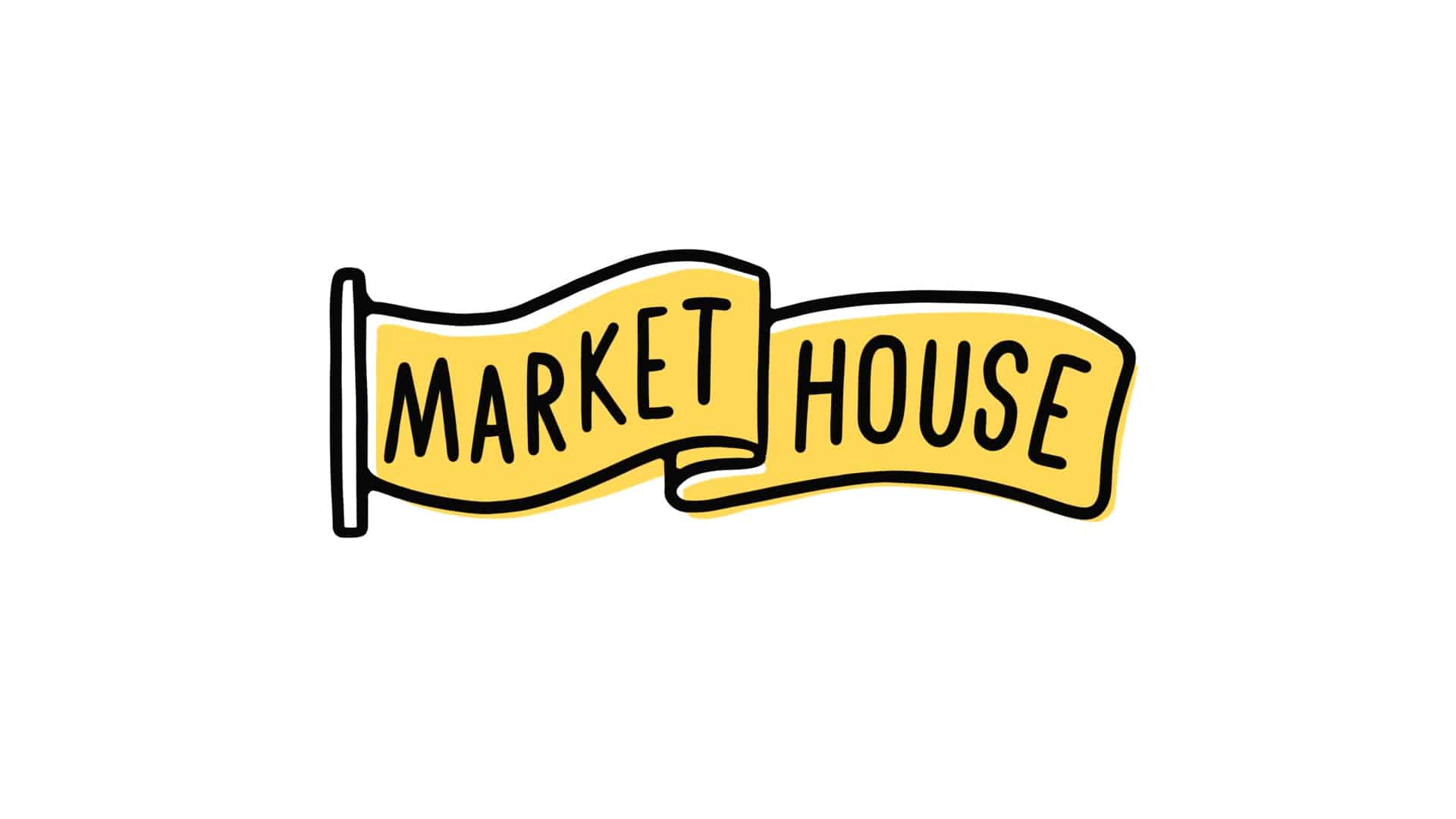 Say hello to the new Market House
It's 2023 and this year marks the 10th year of Market House.
So, as we celebrate this milestone, we are also pleased to showcase the next evolution of our brand. We'll go through the steps we took to arrive at our new brand, explain the thought process behind the rebrand, and then breakdown the results.
Rebranding Market House: Why it's time to change
One of the major reasons for our own rebrand is a similar story to many others we work with: it's time. And time is the key motivator for so many brands like ours. Maybe your brand isn't timeless. Maybe it was too trendy? Maybe you're brand has grown up? Maybe your customers have changed? Maybe your business has changed? Regardless of the deeper reason, time affects brands in so many ways, which is why a rebrand often becomes necessary to reflect that change in time.
For us, we wanted to celebrate the passing of our first 10 years in business. Zack and I wanted to shelve the old Market House and proudly display the newest version of ourselves. Beyond the celebration of our milestone, we needed to change because:
Our old brand with the abbreviated MKT for Market was confusing to customers, and
We desperately wanted more branding options to use for marketing, promotions, swag, etc.
We felt so locked in by the old brand that we wanted something more fluid – and something more reflective of Zack and I. We wanted something less rigid and hand drawn – a style we both love. So, with those ideas in mind, it was time to get drawing.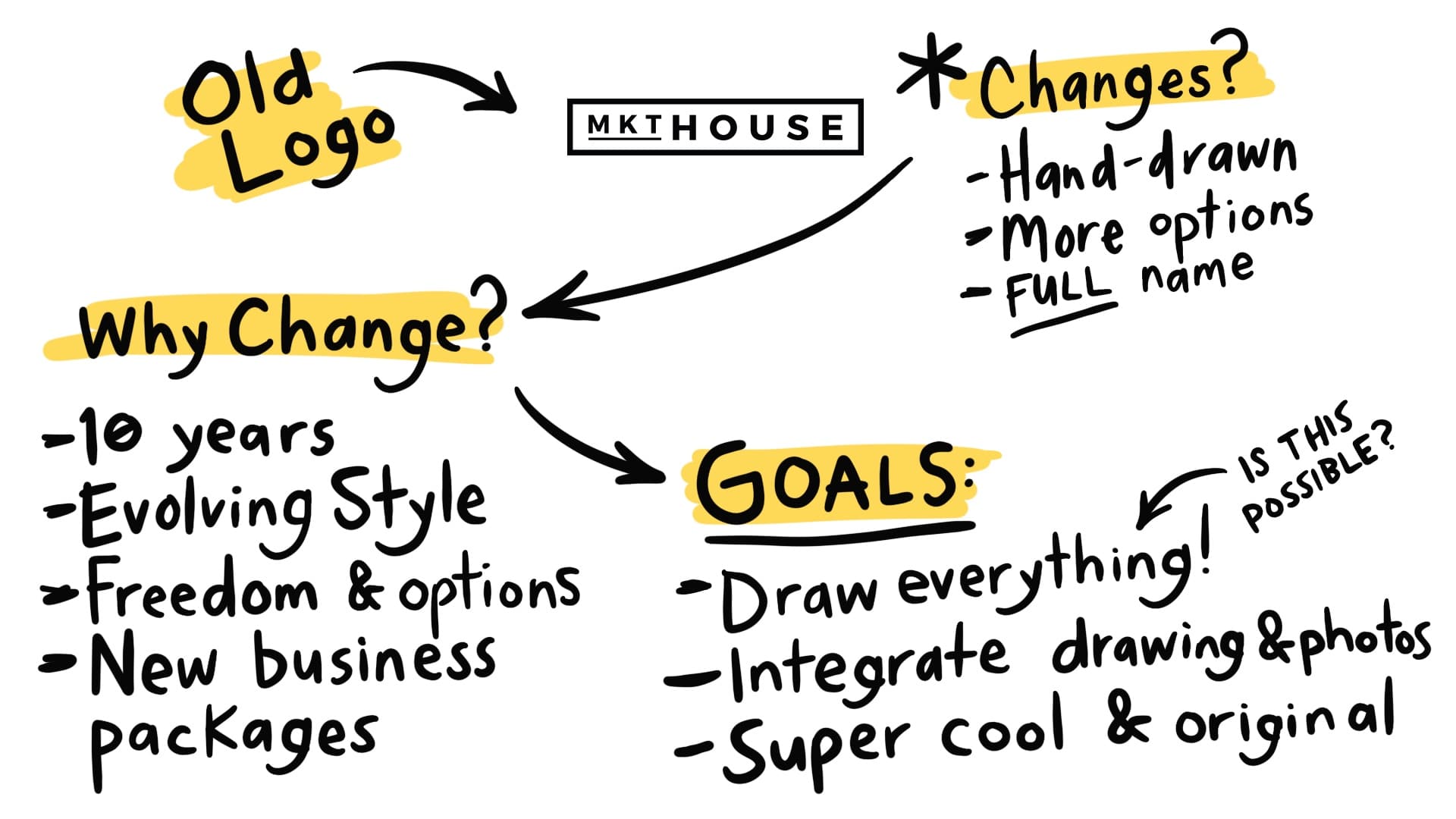 Rebranding Goals for Market House
Not only did we want a hand-drawn look for the new brand, but I set a ridiculous goal of wanting to draw all aspects of the new brand – including the new website. And, when photography was needed, we would have to find a way to incorporate the hand-drawn style into the photography. We really wanted our brand to be unique and memorable. And, of course, it needed to be super cool.
During our end of year planning meeting, I had my iPad with me and I popped open Procreate to draw an idea I had. NOTE: Doodling helps me focus – I was definitely paying attention to the new product-line discussion. From those quick doodles, I ended up with the start of the brand, which is what ended up being one of our brand alternates (see #2 in the image below).
From there, everything just flowed naturally and resulted in the collection of options below. Our celebration rebrand felt right with a flag as the focus, so we leaned hard in that direction with 2 flag options for the brand.
Concerning colors, we wanted the brand to be black and white with 1 additional color only. Previously, we used a tomato red for the brand. And now, we went with mustard yellow. Maybe in another 10 years we'll transition to relish green? Time will tell…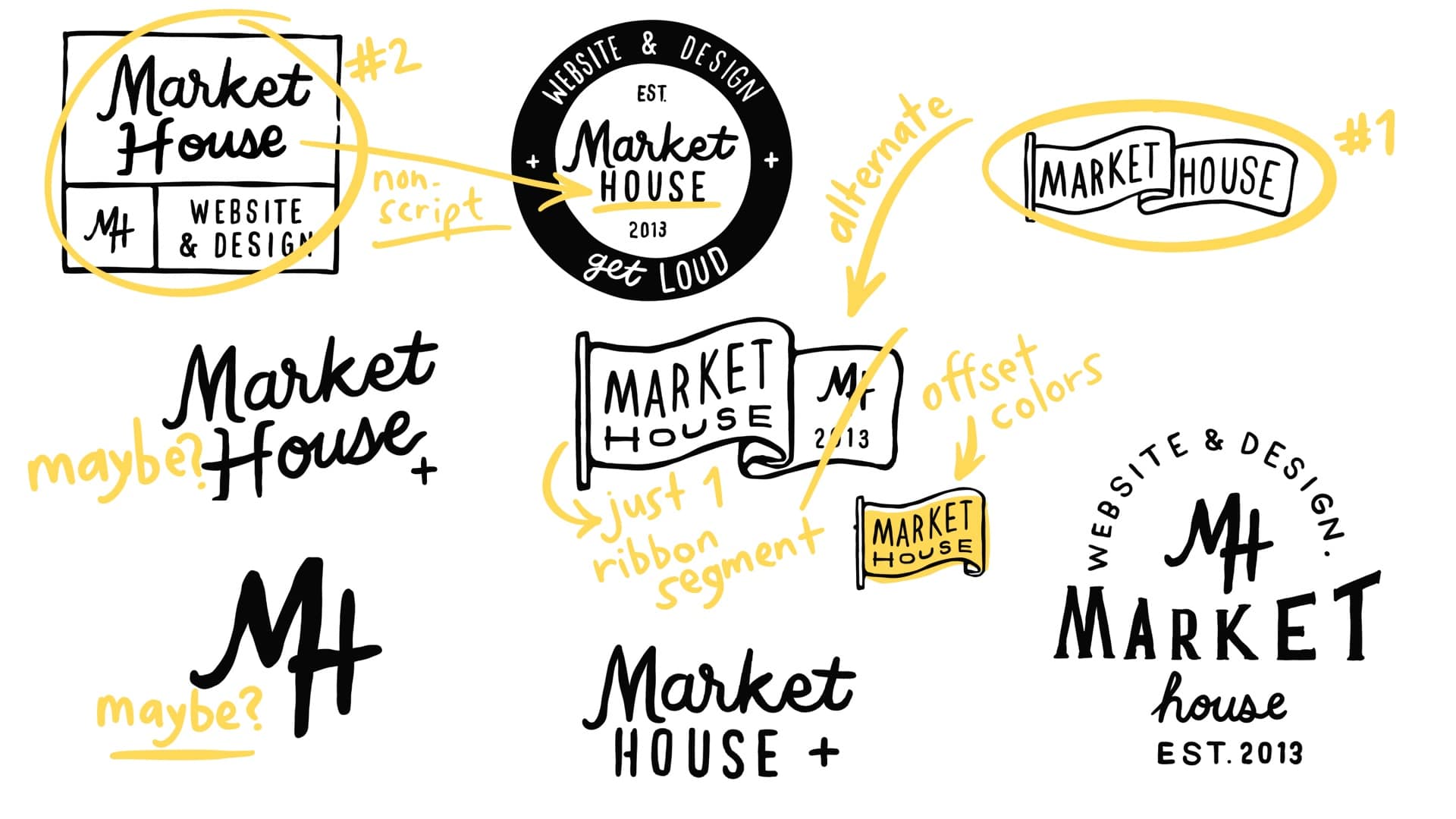 Telling our story
It was also important that we include more of ourselves in the brand. Zack and I became friends in college, so we wanted to find a way to work that into the brand. For more of our story, read it here. A client meeting in late 2022 found us both near the campus. So, of course, we took a ride around our old alma mater, Emmanuel College. We took a tour of the new campus and after seeing the dormitory we both lived in, it was a simple decision to bring in the old dorm into the brand story. It took about 3 iterations and simplifications, but we matched our old dorm with the new style of our brand.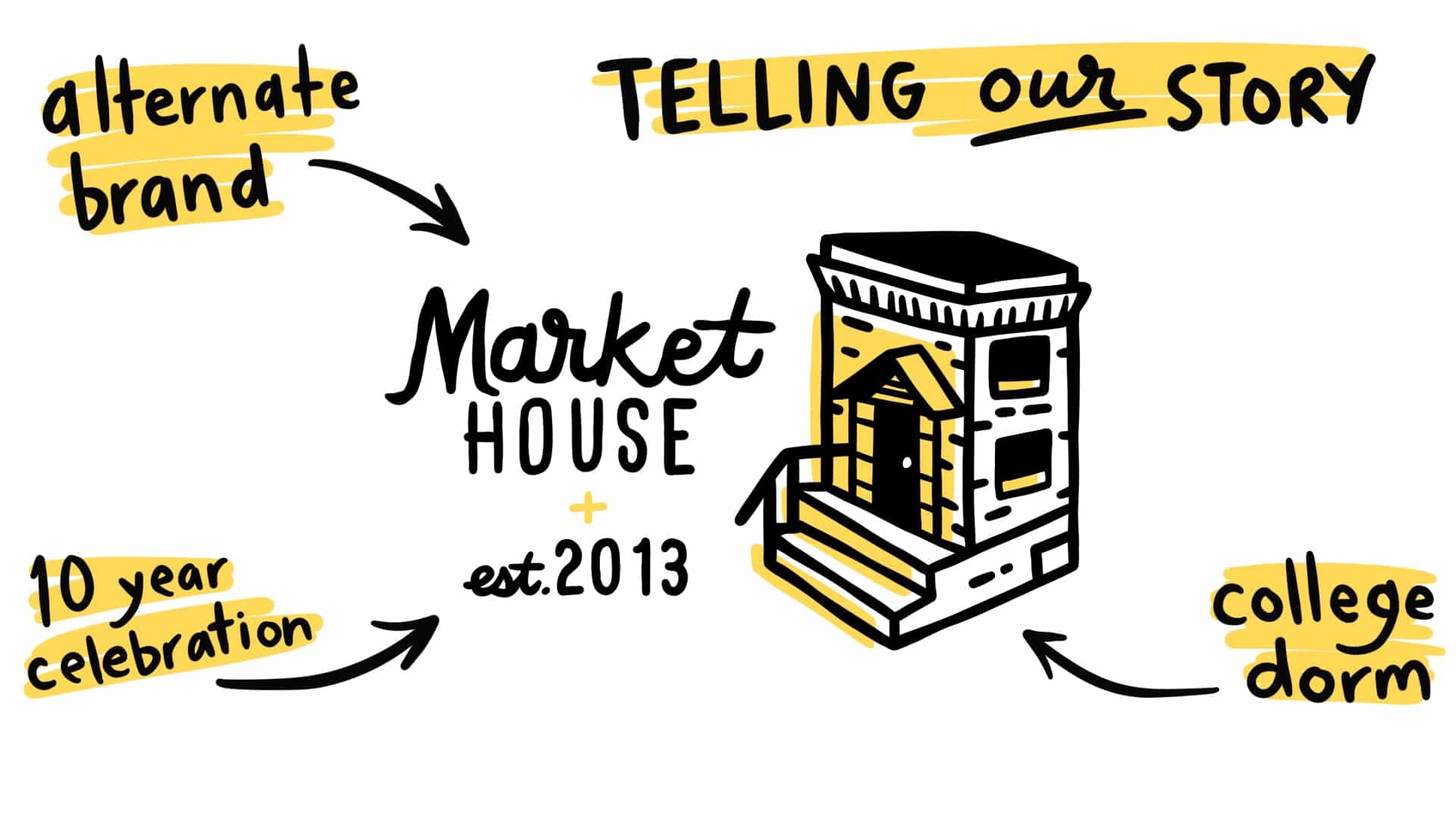 Mustard Yellow, Hand Drawn Lines, and Cheeky Fun
Once the brand came to live, it was time to get to work on bringing it to life across the new Market House website. It was a labor of love drawing so many custom elements, but we absolutely love the result and feel it is our best project yet. With equal parts whimsy, class, and timelessness, we're proud to present the new Market House brand to the world.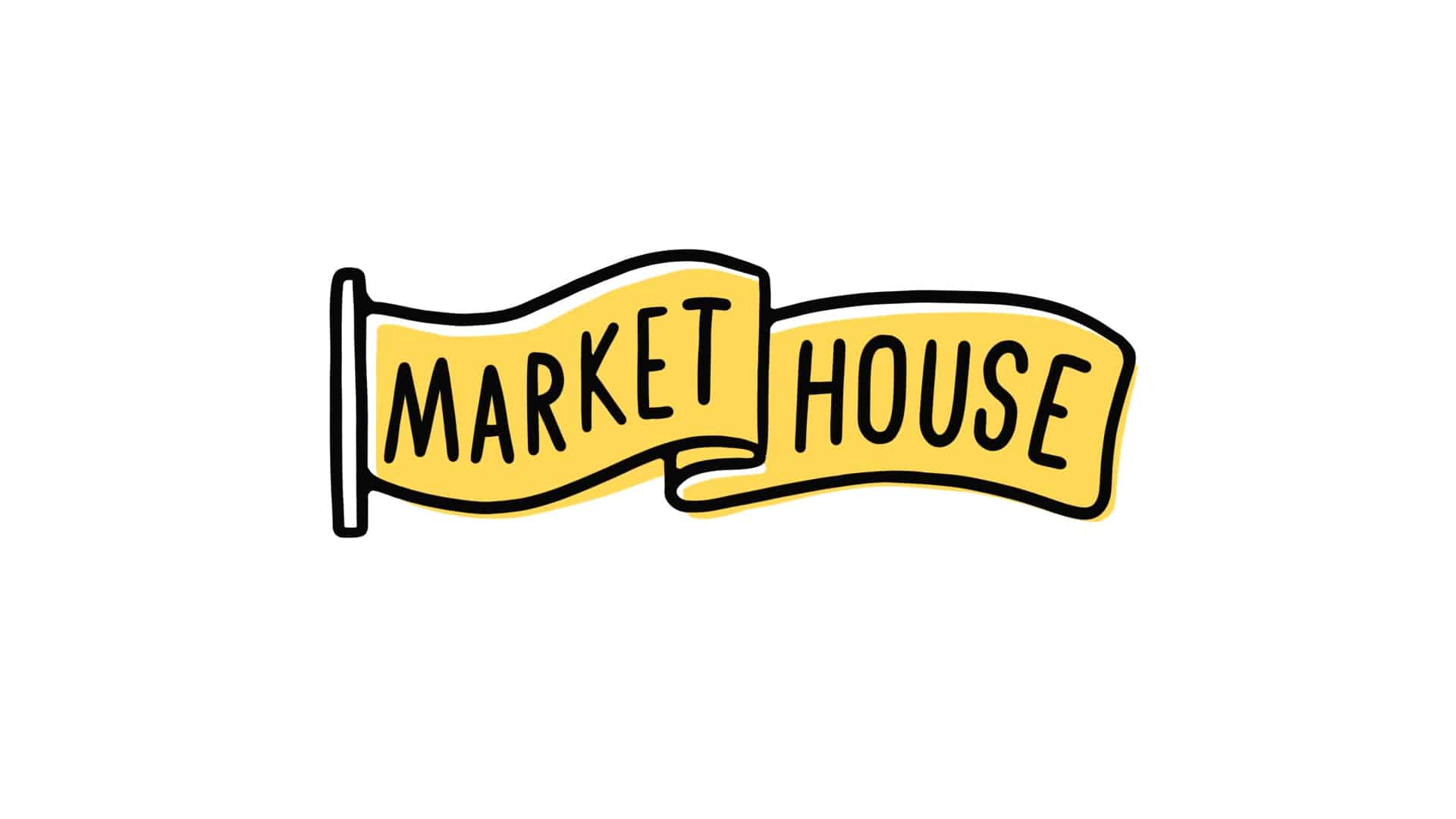 So, celebrate with us and enjoy this moment – it only comes once every 10 years. Oh, and if you want to talk to us about branding, web design, or marketing, let us know here.